Gandy Wheelchairs
If you're suffering from either permanent or temporary mobility issues, St. Petersburg Mobility Scooters can provide you with a high-quality Gandy wheelchair to help you tackle your day-to-day activities. Whether you want brand-new wheelchairs, used wheelchairs, or additional wheelchair accessories to improve the functionality of what you currently use, you can always find something to buy or rent from our extensive list of reliable equipment.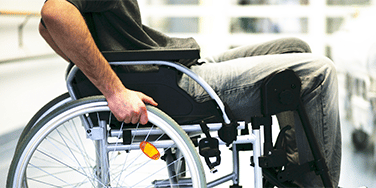 St. Petersburg Mobility Scooters has been successfully providing wheelchairs and other mobility equipment for around 15 years. Regardless of the cause or severity of your disability, our mobility equipment experts can help you pick the most suitable wheelchair to help you stay active and mobile as much as possible. And if you're not looking to buy one, we can also help you rent the most budget-friendly yet highly functional wheelchair that will best address your mobility needs.
We can offer you the most appropriate wheelchair, regardless of your budget range. Our wide variety of equipment choices is from some of the most trusted brands in the industry, including Pride Mobility, Golden, Harmar, EZ-Access, EV Rider, and Merits. Whether you pick a brand new or used wheelchair to buy or rent, we guarantee that our product will give the best value for your money. Even better, we also offer maintenance services so we can repair and extend the lifespan of your wheelchair!
So whether you're looking for a powered wheelchair to help with your long-term disability or something lightweight and portable for traveling purposes or temporary use, trust our team to help you find exactly what you need.
Call St. Petersburg Mobility Scooters today at (727) 238-7909 for your Free Consultation with a Gandy Wheelchair supplier!
Manual Wheelchairs
If your specific disability warrants a wheelchair as a mobility solution, you must decide whether a manual or a powered wheelchair will better serve your needs. Fortunately, at St. Petersburg Mobility Scooters, any of these two are available in different models from our long list of reliable Gandy wheelchairs.
For manual wheelchairs, you should consider them if you still have the strength and balance to easily propel yourself forward without exerting too much effort. Long-term and continuous use of a manual wheelchair can cause shoulder wear and tear, so consulting with your doctor is recommended before purchasing or renting. Also, if you get fatigued easily, a powered or motorized wheelchair may be a better option for you.
However, several advantages come with using manual wheelchairs, including their portability, allowing you to fold them and travel more easily. This makes them a good option if you rely on taxis and trains to go to your destinations. Using manual wheelchairs will also make it more convenient to navigate tighter spaces. Additionally, they have fewer parts than powered wheelchairs, so less maintenance is required. You also won't have to rely on batteries or constantly look for a nearby power source.
On the other hand, operating a manual wheelchair can be tricky since you'll have to be aware of any obstacle, including curbs and rough terrains. Traveling for a long time can also be harder since you will have to rely on your energy to move around.
Powered Wheelchairs
Powered wheelchairs have many benefits that could make your life easier if your mobility is significantly reduced.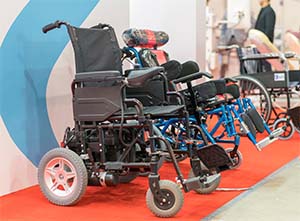 These include:
Range of controls

– You can control your wheelchair using different methods, like using a joystick or touchpad. This ensures that every user, regardless of their disability, will have something they can use to move the chair.

Better navigation outdoors

– Unlike manual wheelchairs that demands strength to move, powered wheelchairs can easily aid in your outdoor activities even with obstacles like rough terrains.

Saves time

– Powered wheelchairs have a speed that can reach up to 8mph. This allows you to reach your destination faster than when operating a manual wheelchair, saving you time and energy throughout the day, especially if you're outdoors.

More customizable accessory options

– Powered wheelchairs can better cater to your comfort by utilizing suitable accessories that you can adjust or customize based on your needs. If, for example, you suffer from Edema, having adjustable leg rests will let you keep your legs above your heart. Having the recline and tilt option will also be ideal for those with reduced mobility since it can alleviate pressure and minimize your risk of getting sore.
While powered wheelchairs can obviously make your day-to-day life easier despite a disability, they are even more ideal if you're also looking to travel more. St. Petersburg Mobility Scooters can offer you mid-wheel drive-powered wheelchairs for better turning radius within an indoor setting. However, if you're more likely to spend your time outdoors, we also have rear-wheel drive-powered wheelchairs that can provide better security when going over rough terrain or using public transport.
You should, however, keep in mind that powered wheelchairs will require a nearby power source. That's why charging overnight is highly recommended to ensure you're not short on power when you're outdoors. You should also take note that powered wheelchairs are larger than manual ones when you're planning to travel.
Complete Wheelchair Supplier
Whether you are injured, recovering from surgery, born with a disability, or having poor mobility due to old age or other health issues, St. Petersburg Mobility Scooters can provide you with functional, durable, and cost-efficient Gandy wheelchairs, accessories, and other mobility equipment to help you complete daily activities as safely and normally as possible.
And since we cater to various budget ranges, our products are not only composed of brand new wheelchairs but 2nd hand wheelchairs as well. Rest assured, though, that our mobility equipment experts still verify even our used equipment to ensure it's safe and reliable. Our products are guaranteed to be worth your money with proven quality from some of the most popular brands, such as Pride Mobility, Golden, Harmar, EZ-Access, EV Rider, and Merits.
Aside from actual wheelchairs, we also offer a comprehensive list of accessory options so you can feel most comfortable and safe. Included in our wheelchair accessories are the following:
Seat cushions

Bags, packs, totes

Tray

Cup holder

Postural support devices or positioning accessories

Ramps

Anti-tippers

Anti-rollback system

Push bars

Wheelchair cover

Sleeve guards

Fall monitors

Oxygen tank holders

Hand grip extensions

Tablet holder

Weatherbreaker canopies
Talk to our mobility equipment experts today, and we can help you pick the most appropriate accessories for your specific needs and lifestyle.
Wheelchairs for Rent
As a full-service mobility equipment provider, we not only offer wheelchairs for sale but for rent as well. This option will be better for you if your mobility issue is only temporary, such as those caused by an injury or a result of recent surgery. Our wheelchairs for rent will also come in handy if you're traveling to Gandy but would not like to bring your own wheelchair for a more convenient trip or some other reasons.
St. Petersburg Mobility Scooters has a wide variety of wheelchairs that you can rent, allowing you to choose the one that best meets your needs and fits your budget. However, if you're not sure what type to get, don't hesitate to discuss your needs with our team of mobility equipment experts. We'll gladly guide you through your most appropriate choices and give you recommendations that will benefit you the most.
You can consult us by phone or have our team conduct an in-home consultation for your utmost convenience!
Trusted Gandy, FL Mobility Equipment Supplier
At St. Petersburg Mobility Scooters, our main goal is to provide you with high-quality pieces of mobility equipment that will help you stay safe and mobile despite a disability. Whether you intend to rent or purchase brand-new or used equipment, our selection of wheelchairs and other mobility support devices is guaranteed to have something that completely addresses your needs.
We have been in the service since 2007 and have since provided reliable equipment to countless individuals, including veterans, as well as employees and clients of federal, state, and local governments. Our team of mobility equipment experts always ensures that our clients get the ideal equipment for their utmost security and comfort, recommending and installing your needed equipment in the most efficient way possible.
Aside from wheelchairs, we also deliver and install the following products:
lift chairs

knee walkers and rollators

vertical platform lifts

hospital beds

mobility scooter lifts

power chairs

stairlifts

vehicle transport lifts

patient lifts

pool lifts

accessibility ramps
Regardless of the specific equipment you need, we have them in stock for either purchase or rental. They are available at reasonable prices and will always be delivered promptly to your location. We can also expertly install them ourselves if needed.
Additionally, we also offer professional maintenance services for all your mobility equipment. This way, you can ensure that your devices are at their optimal condition, maximizing their functionality and extending their lifespan as much as possible.
Call for Your Free In-Home Consultation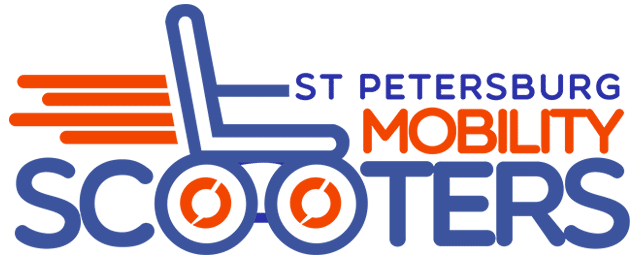 Having reduced mobility or losing the entire function of your legs can be extremely difficult, especially at the beginning. Fortunately, modern technology gives way to various support equipment that will help keep you moving around as much as possible. Included in these kinds of equipment are manual and powered wheelchairs—all of which are available at St. Petersburg Mobility Scooters!
If you want to know all about your wheelchair choices and ensure that you can purchase or rent the one that best matches your needs and financial capacity, now is the time to consult our mobility equipment experts. We'll consider your particular mobility issue, lifestyle, and budget.
We offer free, no-obligation, in-home consultations, but you can always contact us by phone. What makes in-home consultations a bit better is that we can see the indoor and outdoor spaces you'll most likely be navigating, allowing us to recommend a more appropriate type of wheelchair.
Call St. Petersburg Mobility Scooters today at (727) 238-7909 for your Free Consultation with a trusted Gandy Wheelchair supplier!