Treasure Island Mobility Scooters
If you or your loved one suffers from a temporary or permanent inability to walk and operate a manual wheelchair, you will find a better solution in one of our premium Treasure Island mobility scooters at St. Petersburg Mobility Scooters. We offer models from the most trusted brands in the USA, and you can buy or rent any of them at a fair price.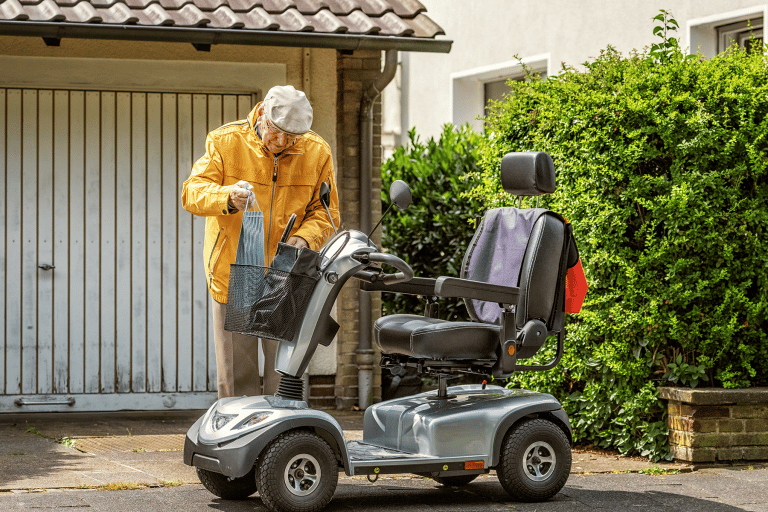 Our team of mobility equipment experts is dedicated to helping all our clients as they face different mobility or balance issues. We make sure that all types of equipment we deliver, install, and repair are up to standards and can keep you safe, mobile, and able to do daily activities as normally as possible for as long as you need.
We have all types of mobility scooters for sale and rent, allowing you to choose one that's best suited to your lifestyle and budget. We can also accommodate your personal preferences when it comes to comfort and additional safety by providing you with various accessories that can improve your scooter's overall function.
So if you or someone you love needs quality support to walk and stay mobile, let us offer you durable, functional, and cost-effective mobility scooters that you can use for indoor and outdoor purposes.
Call St. Petersburg Mobility Scooters today at (727) 238-7909 for your Free Consultation with a trusted Treasure Island Mobility Scooter supplier!
Great Selection of Mobility Scooters
Mobility scooters are used by people of all ages and sizes who cannot walk without assistance and are not inclined to operate a wheelchair. And since different people with different routines and preferred activities are the intended users of mobility scooters, this equipment is available in different models to accommodate the needs of various individuals.
At St. Petersburg Mobility Scooters, we keep our Treasure Island mobility scooter options as wide-ranged as possible. Here is an overview of the different types of mobility scooters that we offer:
Travel scooters
Travel scooters are also called portable scooters and can typically fit into a car's trunk or airplane cargo. These scooters are compact, foldable, and can be disassembled into three or four parts. They are also available in three-wheeled and four-wheeled models. However, travel scooters are lighter than full-sized three-wheeled or four-wheeled scooters. Their seats are also smaller and less padded compared to full-sized scooters.
Fold up scooters
Fold up scooters are perfect for when you need a scooter to get around safely and comfortably, but don't have a lift or rack on your vehicle. Fold up scooters are compact, smaller than typical scooters, and they fold up to fit in your car's trunk or as checked luggage on an airplane.
Because they are lighter weight than standard scooters, they are more easy to lift into and out of the trunk of your car. That makes folding scooters ideal for travel – whether a long road trip, a plane excursion, or a day trip. Fold up scooters are a great solution for short-term mobility issues or for people on the go.
Three-wheel mobility scooters
These full-sized scooters come with three wheels and a tight turning radius, allowing you to navigate indoor spaces more easily than when using four-wheel scooters. However, three-wheel mobility scooters are less stable than those with four wheels and may even pose risks when crossing uneven surfaces. Instead, they are best used indoors, like at your home, shopping malls, or any establishment you need to visit. Just be cautious during transfers and turn slowly to avoid tripping.
Four-wheel mobility scooters
These full-sized four-wheel mobility scooters are more stable than three-wheel models, making them ideal for navigating hills or ramps. The risk of tipping over is also low, and they can be used outdoors with their large turning radius. You will also have a smoother ride over rough terrain using four-wheel scooters due to their suspension systems and large, pneumatic wheels.
Mid-sized mobility scooters
If you spend a lot of time both indoors and outdoors, a mid-sized mobility scooter will be a good fit for you. It comes with large, wide wheels that have better traction and stability that's good for going over rugged terrain. It can also be easily maneuvered to make sharp turns in public areas. However, not many mid-size scooter models are foldable, so if you want to transport it in a car without a lift, you just have to disassemble the parts.
Full-sized mobility scooters
Full-sized mobility scooters offer a more comfortable experience for people with larger body types. It comes with a wider seat and a taller backrest for added support and has a weight limit between 300 and 500 lbs. This type of scooter can also travel long distances due to its high-capacity battery that can go for up 10-30 miles, depending on the model. And despite their large size, full-sized mobility scooters can still be easily maneuvered indoors, thanks to models with a three-wheel design.
Heavy-duty mobility scooters
If you need a mobility scooter with a higher weight capacity than that of a full-sized scooter, heavy-duty scooters are the alternative solution. They can typically accommodate up to 500-550 lbs. They come with a more powerful motor, higher ground clearance, a wider and sturdier base, and larger tires than full-sized scooters. They are also available in both three-wheel and four-wheel models. So if you want to use something fit for rougher, bumpier terrain, heavy-duty mobility scooters are a good investment. An all-terrain scooter, a type of heavy-duty scooter, is even available with a design that's specifically adjusted for outdoor activities done on rugged surfaces, such as grass, mud, sand, and trails.
If you need help choosing from all the available options, feel free to ask for recommendations from our team of mobility equipment experts. We'll gladly help you narrow down your options and weigh the pros and cons of each model based on lifestyle, specific mobility issues, personal preferences, and budget.
Brand New and Used Mobility Scooters – For Sale and Rent
As a complete Treasure Island mobility scooter supplier, St. Petersburg Mobility Scooters ensures that all who need our equipment can get what they need within the price range they can afford. That's why if you look through our list of available mobility scooters, you can find both brand-new models and used scooters for sale. We also anticipate that for others with temporary mobility issues, scooters for rent are the more practical option.
Regardless of whether you want to buy or rent our mobility scooters, we guarantee equipment that will effectively provide your needed support without breaking the bank. Both our brand-new and used models are constantly inspected to ensure that they have the functionality and durability that will provide you with safety and comfort.
Our mobility equipment experts are also well-versed in repairing mobility scooters and other supportive devices. So if you notice a need for repair in your scooter, or you simply want some routine maintenance services to ensure that it's in tip-top shape, call St. Petersburg Mobility Scooters for an efficient, satisfactory process.
Top-Rated Treasure Island, FL Mobility Equipment Supplier
You won't regret investing in our products at St. Petersburg Mobility Scooters for any of your mobility equipment needs. We have been a trusted supplier in Treasure Island and nearby areas since 2007, earning us a government contract to supply for the Veterans Administration and GSA. Along with countless private individuals, thousands of employees and clients of federal, state, and local governments have successfully faced their mobility issues with our state-of-the-art equipment.
To ensure that our clients are secure, comfortable, and mobile as they go through different health or medical issues, we only work with trusted brands of mobility equipment manufacturers, including Pride Mobility, Golden, Harmar, EZ-Access, EV Rider, and Merits. Whether you get the brand-new or used models of our equipment, rest assured that they'll help you remain active and gain a sense of independence.
And as mentioned, we don't only offer Treasure Island mobility scooters. Some of our other available equipment are the following:
wheelchairs

lift chairs

knee walkers and rollators

vertical platform lifts

hospital beds

mobility scooter lifts

power chairs

stairlifts

vehicle transport lifts

patient lifts

pool lifts

accessibility ramps
No matter what you get from this list, St. Petersburg Mobility Scooters can deliver them on time wherever you are. If needed, we also handle the installation of your equipment so you can ensure that everything is properly put in place and will remain durable for as long as possible.
Our maintenance services are always available, so feel free to ring us and keep your mobility equipment in its optimal condition for a safer, more satisfying user experience.
Call Now for Your Free Consultation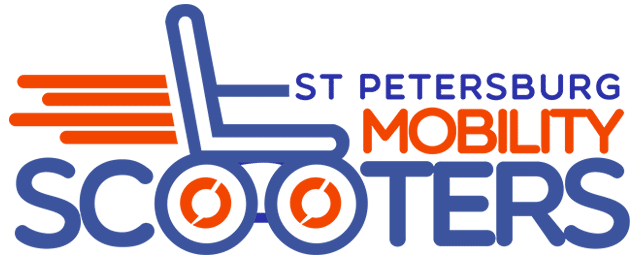 Mobility scooters can give extreme relief and comfort to aged and disabled people when moving around. Going to places and doing normal daily activities can be done easier with high-quality scooters, even without the assistance of a caregiver. So not only will the user have an easier time gaining access to places, but they will also be in a better mental state upon gaining a sense of independence or control, as opposed to feeling helpless when they can't walk without assistance.
Fortunately, many exceptional models of mobility scooters are available here at St. Petersburg Mobility Scooters. Talk to our mobility equipment experts so you can buy or rent the best model that gives maximum value for your money.
Call St. Petersburg Mobility Scooters today at (727) 238-7909 for your Free Consultation with a trusted Treasure Island Mobility Scooter supplier!