Treasure Island Mobility Scooter Rental
Since they were first introduced to the market, mobility scooters have gained traction among people with certain medical conditions that affect their mobility. Like their traditional counterparts, these transportation devices are motorized, enabling users to get around easily and comfortably. They even have components or add-ons that allow users to carry everything they need without leaving the scooter.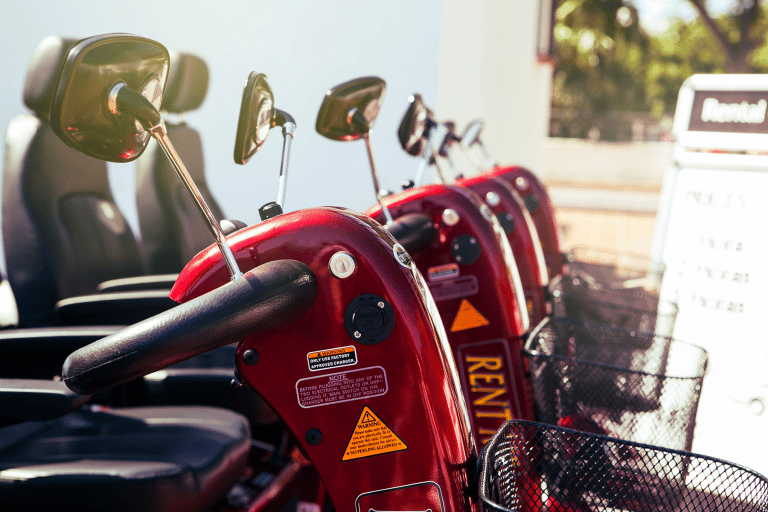 Given their motorized components, size, and features, mobility scooters are expensive, either brand-new or second-hand. Getting one is also not recommended if you or your loved one will only use it for a short time. Renting is a viable option if you need to use one either for the short-term or long-term one. When you are in Treasure Island, FL, St. Petersburg Mobility Scooters is the mobility solutions provider that offers affordable rental rates for any type of mobility scooter imaginable.
Our Treasure Island mobility scooter rental service is personalized to fit what clients need from their mobility scooters. We have a vast selection of mobility scooters for rent from the country's trusted brands, and we guarantee that you will find one based on your requirements and budget. All our rental mobility scooters are regularly maintained because we want you to feel safe when using our mobility scooters.
Call St. Petersburg Mobility Scooters at (727) 238-7909 for your Free Consultation with a Treasure Island Mobility Scooter Rental provider!
Why Rent Instead of Buying a Mobility Scooter?
Before deciding whether or not to rent a mobility scooter, you need to know the differences between purchasing one and renting one.
The most notable difference both sides have is in terms of its cost. Mobility scooters can cost thousands of dollars if you buy a brand new or second-hand, which is not usually covered by insurance plans. While it is a good investment for the long-term, you have to deal with its maintenance and repairs in full to keep it usable for others in the family who may use it.
Meanwhile, renting mobility scooters is cheaper since you only have to keep them for a short term. Payment options for rental mobility scooters are often flexible to match the client's budget, and the rental fee already includes the costs for maintenance and repairs.
Factors to Consider When Renting a Mobility Scooter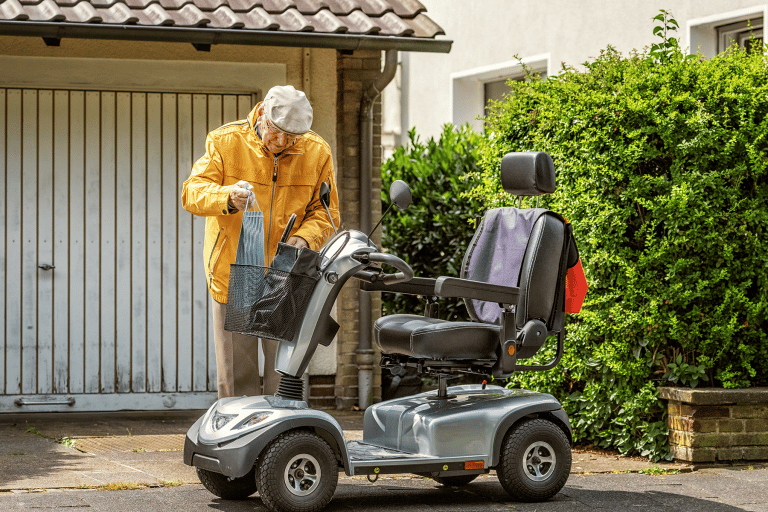 Before you consider renting a mobility scooter, it is important to do your research and consider all the factors affecting how well these devices function throughout your rental period. Down below are the major factors you need to consider before you rent:
Mobility scooters come in various sizes and types to match different scenarios and activities. Some notable types of mobility scooters available include travel scooters, three-wheel mobility scooters, four-wheel mobility scooters, full-sized mobility scooters, and heavy-duty mobility scooters.
It is important that you know where you will use these mobility scooters since this can help you narrow down the type of mobility scooter that matches your requirements.
Each mobility scooter comes with different power motors, which indicate how much power it needs to move around and how far it can travel. If you use your mobility scooter to travel around your community, it is best to get one with long-range capabilities.
You also need to make sure that the mobility scooter you plan to rent is comfortable to use. The steering wheel should be located in an easy-to-reach space, and the seat should be well-padded so it will not cause problems for your physical condition when driving around. Some mobility scooters even come with add-ons that provide comforts like storage baskets, cup holders, and extra seats.
Mobility scooters for rent must also be safe to use. One way this is guaranteed is through regular maintenance by rental companies, and there is also insurance coverage included in the rental agreement to protect its users.
Your health condition, or that of a loved one, can determine how long you will need to rent a mobility scooter. If your movement is severely impaired, it is recommended that you purchase one instead of renting one. However, if you are slowly recovering from an injury or surgery, opting for a rental mobility scooter is best.
Aside from the user's health condition, you will also need to consider when you will use the mobility scooter to determine how long you need it. If you find it hard to move without the help of a crutch, cane, or anything similar, you will need to purchase one for your needs. But, if you can still walk around with a cane but not for a long time, you will not need a mobility device for the long term, and renting is best.
Finally, you have to consider the price of the mobility scooter you plan to rent and how long you plan to rent the device. It is recommended that your rental fee does not exceed the price of the rental mobility scooter you are getting, and it must also cover the additional costs for maintenance and repairs.
If you have any concerns, we recommend speaking to your physician before reaching out to us. Your physician can explain your condition and determine whether it is best to rent a mobility scooter. Once your physician recommends either option, we are ready to help you get the mobility scooter that fits your needs.
Why Trust St. Petersburg Mobility Scooters?
While there are other Treasure Island mobility scooter rental services in the city, St. Petersburg Mobility Scooters stands out for several reasons, which made it a favorite partner for private individuals, public and private organizations, and local, state, and federal government.
First, St. Petersburg Mobility Scooters offers a comprehensive rental service for its mobility scooter line-up to make the experience stress-free and streamlined. We ensure that the mobility scooters you rent from us are regularly maintained and perfectly cater to your needs. Our rental catalog includes the latest mobility scooters from EV Rider, Pride Mobility, and Amigo. We work directly with them to ensure that the units we rent out are carefully checked and inspected before it is released to the client.
We also offer flexible payment options for short-term and long-term rentals for our mobility scooters. This payment scheme is done in response to insurance policies not including mobility equipment rentals for their patients to avail of even if needed. Our payment plans are also transparent, and we do not charge extra fees to our clients without notice.
Finally, our mobility solutions experts are always on standby to guide you through the options and tackle the maintenance or repairs that should be done on your unit. Simply reach out to us, and our experts will go to your home to do it efficiently. If repairs are not possible, we will switch it to another unit.
Reliable Treasure Island, FL Mobility Solutions Provider
St. Petersburg Mobility Scooters does not just offer personalized Treasure Island mobility scooter rental services to clients who have mobility issues due to injury, surgery, or medical problems. We offer reliable and affordable mobility solutions to our clients, whether it may be for sale or rent. Our company is committed to providing our clients with state-of-the-art equipment to make mobility possible despite their current physical condition and help them become more active.
Some of the equipment we offer for sale or rent include:
wheelchairs

lift chairs

knee walkers and rollators

vertical platform lifts

hospital beds

mobility scooter lifts

power chairs

stairlifts

vehicle transport lifts

patient lifts

pool lifts

accessibility ramps
No matter which mobility solution you request from us, St. Petersburg Mobility Scooters will ensure you receive them on time wherever you may be in the city. If the equipment you selected requires installation and regular maintenance, our team can go to your location to do the necessary tasks. Simply give us a call, and we will make sure your mobility equipment is in the best condition for continuous use.
Call for Your Free Consultation Today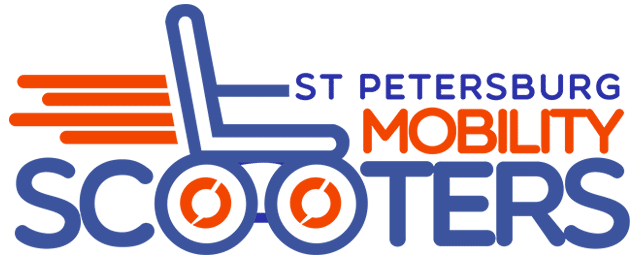 Mobility scooters provide users with an improved experience in moving around their homes and neighborhoods compared to wheelchairs. But, if you are on a budget or you will only use them for a short period, you can simply rent them from a reliable mobility solutions provider.
At St. Petersburg Mobility Scooters, our mobility experts will narrow down the available rental options for you to pick and create a payment scheme that won't be heavy for your budget. Contact us today to learn more about our rental options, and we promise that your investment is safe with us.
Call St. Petersburg Mobility Scooters at (727) 238-7909 for your Free Consultation with a Treasure Island Mobility Scooter Rental provider!