St. Petersburg Knee Walkers & Rollators
If you sustained below-the-knee injuries, such as a ruptured Achilles tendon, fractured ankle, or sprained ankle, your doctor would most likely recommend using a knee walker as you recover to avoid putting weight on the injured area. At St. Petersburg Mobility Scooters, you can get high-quality St. Petersburg knee walkers for sale and rent at reasonable prices!
We have been providing mobility equipment for more than a decade now. Our team comprises mobility equipment experts who are always ready to help you choose the best knee walker—or any other device that you need—that could meet your mobility needs while keeping your budget in mind. We offer both brand-new and used knee walkers that are all guaranteed to be functional, durable, and worth their price.
If you don't want to buy a knee walker since you only need it for a short time and renting would be more practical, we also have a great selection of available equipment for this exact purpose. And since we are a full-service mobility equipment supplier, we also offer maintenance and repair services for your knee walkers so you'll remain safe, mobile, and active as you keep using them.
Discuss your needs with our mobility equipment experts today and get the most suitable supportive device for your mobility or balance issue.
Call St. Petersburg Mobility Scooters today at (727) 238-7909 for your Free Consultation with a trusted St. Petersburg Knee Walker supplier!
Knee Walkers for Sale – Brand New and Used
While traditional crutches have benefits, knee walkers are the more modern solution recommended for people suffering below-the-knee injuries or other conditions that require them not to bear weight on one leg. And if you're confused about the difference between a knee walker and a knee scooter, know that both terms are used interchangeably but always refer to the same mobility device.
Knee walkers are wheeled devices that enable you to use your good leg to push yourself forward while your injured leg rests on a padded platform at a right angle. They're also equipped with handlebars that you can use to steer toward your desired direction.
At St. Petersburg Mobility Scooters, our selection of St. Petersburg knee walkers is complete with brand-new and used models of the four main types of knee walkers. These types are:
Indoor Knee Walkers
Most models of indoor knee walkers have non-marking solid wheels. And although this can still be used outdoors, an all-terrain knee walker will be a better, more comfortable device for frequent outdoor use. Their capacity for a great turning radius makes knee walkers best for indoor use. This will allow you to easily navigate corners, narrow hallways, and small rooms.
Outdoor Knee Walkers
While outdoor knee walkers are fully usable indoors, they are specially made for exceptional outdoor use. Their air-filled rubber wheels are larger to absorb the shock from rough terrains, such as concrete, uneven sidewalks, light grass, and others. So if you are particularly active before your injury and still want to enjoy as many outdoor activities as possible, our outdoor knee walkers will be a good fit.
Seated Knee Walkers
A seated knee walker will be right for you if you want to stand upright and roll while your injured leg is free from any weight. This wheeled device looks like a bicycle at a place, but instead of using pedals, you will have to push yourself forward using your uninjured foot. Essentially, this is just a knee walker that you can sit on, which is recommended for people who can't use the typical knee walker due to an injured or sensitive knee.
Pediatric Knee Walkers
If the intended user is a kid or adult less than 5'5" tall with below-the-knee injuries, you are better off renting or buying a pediatric knee walker. This type allows the user to move around easily and comfortably since it is adjusted to their size, promoting a better experience from proper use. This will also help kids recover with high spirits since their mobility won't be restricted. Additionally, petite or smaller adults with trouble adjusting to the standard adult-size knee walker will be more comfortable with a pediatric model.
Walkers and Rollators
You should also keep in mind that knee walkers are different from typical walkers and rollators. Standard walkers and rollators are supportive devices designed to help people maintain their balance while walking. Knee walkers, on the other hand, are made for people who can't use their one leg for walking since it shouldn't be bearing any weight due to an injury below the knee.
Walkers
A walker is a mobility device with a frame and four legs designed to support your balance and help you move around. Users need adequate arm strength to properly use a walker since they will have to grip the frame and lift it up and down as they move around. Walkers can partially support your body weight and be equipped with accessories to help you move easily. However, walkers do not have a place for you to sit down and rest.
Rollators
A rollator has a different frame than a walker. Each of its four legs has wheels at the end, which makes it more convenient for movement since you won't have to lift it anymore. It also comes with a seat built into the frame, making it more comfortable to move and easier to rest in. However, rollators are not designed to help support your balance or body weight.
Hybrid Walkers
Both walkers and rollators have significant benefits, so naturally, hybrid walkers attempt to make the best of both worlds. These walkers have two back legs that touch the ground, while the two front legs have wheels at the end. This allows users to use less arm strength to move forward while their balance and body weight is partially supported. However, hybrid walkers typically still don't have seats.
Regardless of the kind of equipment that you need, however, trust that St. Petersburg Mobility Scooters has durable and functional knee walkers, walkers, and rollators for sale that will fit your specific needs. Talk to our mobility equipment experts, and we can recommend the most suitable device to help with your mobility or balance issues.
Knee Walker Rental and Maintenance Services
If your leg problem is only temporary or your expected recovery period is only for a short while, you might find our rental option as a better alternative than actually buying a knee walker.
We cater to all budget ranges, so we offer brand-new knee walkers as well as used ones. Rest assured, however, that even our second-hand knee walkers can give you the support and comfort you need.
Additionally, St. Petersburg Mobility Scooters is not simply a St. Petersburg knee walker supplier but also a mobility equipment expert that offers professional maintenance and repair services. You can call us anytime to address safety or functional issues in your knee walker or any other mobility equipment. Our goal is to provide you with cost-effective and reliable equipment and keep them in optimal condition for as long as possible.
Trusted St. Petersburg, FL Mobility Equipment Supplier
If you're in St. Petersburg or nearby areas, St. Petersburg Mobility Scooters is one of the most reliable mobility equipment suppliers that you can go to. We have been in business since 2007 and have already earned a long-term government contract to supply high-quality mobility equipment for the Veterans Administration and GSA. Our products have also already helped thousands of private individuals and federal, state, and local government employees and clients.
All of the equipment that we offer are from trusted manufacturers. Some of the brands that we work with are Pride Mobility, Golden, Harmar, EZ-Access, EV Rider, and Merits. So even if you buy or rent brand new models or 2nd hand mobility equipment, trust that the device you'll get is worth its price and can keep you safe and mobile for as long as you need.
Aside from knee walkers, walkers, and rollators, we also offer the following for sale and rent:
wheelchairs

lift chairs

vertical platform lifts

hospital beds

mobility scooters

mobility scooter lifts

power chairs

stairlifts

vehicle transport lifts

patient lifts

pool lifts

accessibility ramps
We have a great selection of all types of mobility equipment, so if you want to get the best one for your specific health issue and mobility needs, consult our team immediately. We'll guide you through your options and offer recommendations with your safety, comfort, and budget in mind.
Call Now for Your Free Consultation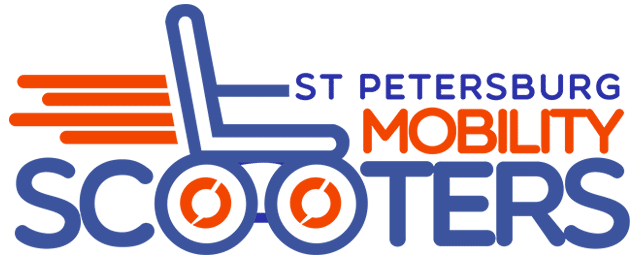 Below-the-knee injuries can seriously affect your mobility and freedom to do normal day-to-day activities. So to speed up your recovery while staying comfortable and safe at the same time, it's best to invest in a high-quality knee walker to avoid putting weight on your injured leg.
Talk to our mobility equipment experts today, and let us help you pick a model that best suits your needs and lifestyle. Whether you need something that you can freely use outdoors or that allows you to navigate tight indoor spaces easily, we have it at St. Petersburg Mobility Scooters—all at a fair price!
Call St. Petersburg Mobility Scooters today at (727) 238-7909 for your Free Consultation with a trusted St. Petersburg Knee Walker supplier!